Playback control is used to start, pause and stop Output Window rendering. The Time Slider and Time Navigator Slider can be used to navigate the project time. If the project contains Animation, Keyframes are displayed in the Timeline.
The time boxes on the right, display Project current- and total time, the time format is Minutes:Seconds.Frames.
Total project time can be set by custom input, input in seconds is automatically converted to the correct time format.
Playback starts by default with one Output Window, Custom Output Setup as well as resizing and identification can be access via the [Output] menu.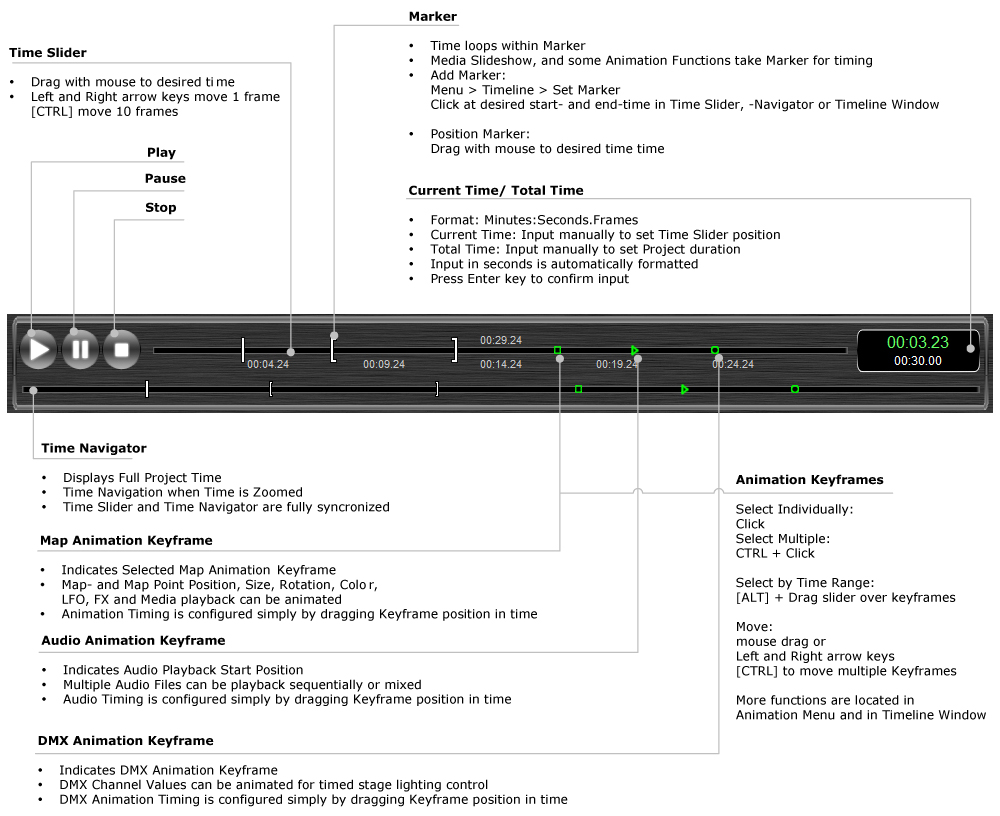 ---
In Timeline Window, Each selected Map, Layer Audio, and selected DMX Channels is displayed as a Track. Keyframes can be easily added and modified via drag and drop inside the Timeline Window. The Timeline Window is accessed via Menu [Timeline >
Show Timeline]
| | |
| --- | --- |
| | |
| | |
| | |
| | |
| | |
| | |
| | |
| | |
| | |
| | |
| | |
| | |
| | |
| --- | --- |
| | |
| | |
| | |
| | |
| | |
| | |
| | |
| | |
| | |
| | |
| | |
| | |
| | |
| | |
| | |
| | |
| | |
| | |
| | |
| | |
| | |
| | |
| | |
| | |
| | |
| | |
| | |
| --- | --- |
| | |
| | |
| | |
| | |
| | |
| | |
| | |
| | |
| | |
| | |
| --- | --- |
| | |
| | |
| | |
| | |
| | |
| | |
| | |
| | |
| | |